Year ends are always special. All the more so, because as the year draws to a close, you finally close in on that long planned and much awaited vacation. This December, you have a reason to add to the cheer as airfares take a drop. Read on as our UNIGLOBE experts delve on the subject.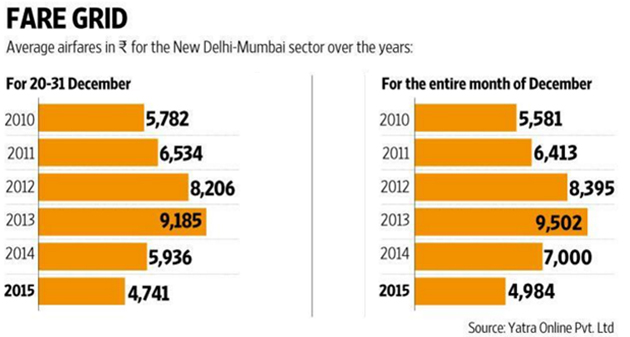 The last month of the year is undoubtedly the favourite for holidays, whether it's with family or friends. The spike in demand for holiday travel usually boosts airfares in December. However, December 2015 is different as a season marked with the lowest fares in domestic air travel since 2010.
The significant drop in crude oil prices that have plunged to a six month low has played a key role this anomaly. Also, the addition of two new national airlines, AirAsia India and Vistara, and their respectively expanding fleets since their establishment during the course of the past year and a half, have contributed to an increase in cumulative passenger carrying capacity of the Indian domestic air travel industry. The increased passenger carrying capacity has been another important factor having led to the reduction in air fares.
Now coming to how the phenomenon has played up in different zones, the fares are lower where capacity is more. These include sectors such as Delhi, Mumbai, Goa and Bengaluru. So, where a typical Mumbai-Goa flight ticket that is normally priced at over INR 10,000, it is now available under INR 5,000 or even less in certain cases; and a Mumbai-Delhi ticket that is normally priced at INR 14,000, is now available at INR 5,000.
Source: Mint
Places we have blogged about